Spring is in the air, and I've been adding a few more things around the house to reflect the change of season.
While browsing recently at Pottery Barn, I spotted some very cute plants including this
Live Ivy Topiary.
You can view a photo of it here at
Pottery Barn.
I thought the plant was so cute with its pot covered in burlap and tied with a ribbon!
The price tag for this plant is $69 dollars.
$69 dollars is not in my budget, so I decided to make my own version.
I already had everything I needed in the house.
(Bought last summer on clearance .25 cents.)
(Bought at a garage sale a few years ago for $1.00)
(Bought at the farmers market last summer for .99 cents.)
So what do you think of my knock off decor?
It's not a live plant like Pottery Barn (which I love), but house plants don't do well under my care, so this is a better solution for me.
The theme this week over at the CSI project is Burlap, I'll be lining this post and joining the party. Come on over and join the fun!
I'm linking to...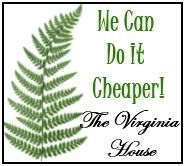 Get Your Craft On - Today's Creative Blog
Blue Cricket Design - Show and Tell
Elements Interiors - Whassup Wednesday
Funky Junk's Saturday Night Special