I had the wonderful privilege of inheriting my grandmother's 80 year old cedar chest.
It came to me in very poor condition. There was a leg broken off, hinges disconnected, veneer chipped and missing and part of the trim molding was missing.
My husband thought it was beyond repair; and maybe the dump was the best place for it. I'm a very sentimental person and said "but it was grandma's!"
It sat in my husband's shop for quite some time, but then one day I was surprised and delighted to find my husband (who's very good at restoring and building furniture) busy working on the chest. I don't have a photo of it at it's worst, but here are a few of the chest in the restoration process.
The veneer was in such bad shape we decided simply to remove it altogether.
We then sanded the cedar wood followed by 3 coats of Valspar black satin paint.
Here it is all finished sitting pretty in my living room.
What do you think of my transformation?
Joy

I'm linking this post to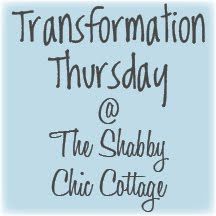 Show and tell @ Blue Cricket Deisgn




Trash to treasure @Reinvented