While thinking of what we would like our bedroom transformation to consist of ~

coastal

and

board and batten

are two things we decided on. You may ask what is

board and batten

?

According to

About.com Guide

the definition is:

"Board and batten, or board-and-batten, describes a type of exterior siding or interior paneling that has alternating wide boards and narrow wooden strips, called battens. The boards are usually (but not always) one foot wide. The boards may be placed horizontally or vertically. The battens are usually (but not always) about 1/2 inch wide. These battens are placed over the seams between the boards."

While I love true board and batten, you must remember we live in a parsonage, and can't do major construction changes. The room already had a chair rail installed in it, so we decided to make use of it by applying the board and batten below it. Here's what we started with...
We were looking for a cost efficient way to do this; and, while shopping at Lowe's, we found laminate flooring for a good price. My husband cut it into 1 1/2 inch wide strips, and applied them below the chair rail, placing them 14 inches apart. The strips were secured in place using 3/4" 23 gauge pin nails slanted in slightly for better hold in the sheet rock. The pin nails are a good choice because they require no nail hole filler.
I then applied a coat of primer followed by two coats of soft-gloss snowblow white Valspar paint.
(Green paint is difficult to cover !)
Here is the out come after 3 coats of paint...
My husband applied the last of the board and batten last evening, and today I'm applying the final coats of paint. I still have a few projects for my husband to build for the room. We love how it's turning out! I can't wait to show you the room when it's finished, so come back and visit.
Joy
I'm linking this post to
Nesting Place
Link party.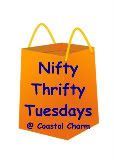 Faded Charm ~
White Wednesday
Tools are for Women Too