I recently
did a makeover in our
master bedroom
. As many of my readers know we moved our furniture around and in the process didn't have room for our existing night stand. My temporary solution was to place this vintage ladder as a night stand on one side of the bed. Having received such a great response from all of you saying how well it looked...
it's staying!
Still needed a night stand for the other side of the bed, I've been looking for a thrifty solution.

Monday I made a quick stop at Goodwill and
to my surprise all furniture was 30 % off!!!
...for $5.49 !!!


Of course it had its blemishes...

...but because I had plans for it that didn't matter.
The first thing to do was give it a good sanding...
...followed by a coat of Kilz primmer
and two coats of white paint left over from my board and batten project.
I removed the wooden knob and replaced it with a crystal knob;
however I didn't like the gold on it and wanted it to match my curtain rod.
My solution was to paint on some oil rubbed bronze paint to antique it a bit.
Here's the finished product...

...with my newly purchased lamp from Ross
sitting on top...
...along side with a vase of sea grass to add a coastal touch.

Have a great weekend!!!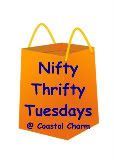 Faded Charm ~
White Wednesday
Tools are for Women Too