Today I welcome back Brie from Breezy Pink Daisies to share one of her genius thrifty DIY projects. Thanks Brie for being here today as my guest!
**********************************************************************
Hi Thrifty Parsonage Living readers! I'm
Brie from Breezy Pink Daisies
and I'm so excited to share this mini project with you because it is so easy, it took me all of 30 seconds!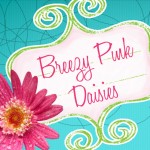 Do you have an old sweater? Do you not sew very well? Well, go ahead and make your own leg warmers with only a pair of scissors! (Well, and that old sweater we were talking about..)
My inspiration: This old short sweater with stains.
So, project #1 with the sweater involved chopping off the sleeves and putting them on my legs. Make perfect sense of course. (Since the bottom of the sleeve is already finished, I wear that part on the top and don't worry about the bottom since that will be covered by the boot anyway.)
Okay, I don't walk around like this...but don't you love my Christmas socks? :) I might recommend wearing these leg warmers only when you plan on keeping your boots on. haha
Yay for leg warmers that look so cute with my boots!
(Yes, I cropped my head out on purpose. I promise it looks cuter this way)
But...here's a cute picture of m

e

with my head included just because it

is

cute and so is my hubby

.

Oh my, don't you wish it was summer time again?
Oh well, at least I'll be enjoying my

new

leg warmers in this fabulously cold Januar

y weather!