Wedding Wednesday
Today I'm going to share some photos of the flowers and floral arrangements we made for our daughters' weddings. In another week, I'll post how we put them together and where we purchased the flowers. So go ahead and sit back and enjoy the flowers.

Bridesmaids bouquets


Bridesmaids Bouquets
Table Flowers


Floral Arrangements


Boutonniere and Bridal Bouquet
I'm Linking this post to.....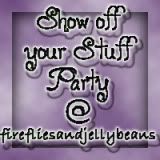 Inspired Week @
the Inspired Room
Tools are for Women Too