Today I'm going to share with you the

wedding favors

we made for our daughters' wedding .
With two weddings only a month apart, we were looking for ways to save money and do things ourselves for less.
One of the weddings had a monogram theme; and this is what we came up with for a perfect match.
While searching for the perfect favor, we found some very cute monogram cookies and cakes but for a price tag of $3.50 each or more ...
making the cost of $700.
$700 was not in our budget, so we decided on DIY with help from Martha's Stewarts' web sight.
~We started with my own

sugar cookie recipe...
Mix ingredients together in above order. Roll out the dough and cut out cookies (We used a baby food jar for cutting out the cookies for the perfect size).
Bake @ 350 degrees for about 10 minutes.
Cool completely before frosting

.
Frost with
Royal Icing
allowing it to dry over night. The following day, stamp each cookie using felt with food coloring as an ink stamp blotting it on a paper towel, then pressing it gently on your cookie, and allowing it to dry completely. Place the cookie in a cellophane bag tying it with raffia ribbon.
See how pretty it looks sitting next to the plate.
The final result: a very tasty and elegant favor for mere pennies!
If you have questions about this project feel free to email me.
I'm linking this post to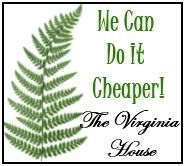 Blue Cricket Design Show and Tell