Picnic season having arrived,
I decided it was time for a new picnic basket.


We received one for a wedding gift, but it was worn out a long time ago.




On a recent shopping trip to Walmart, I found this on sale for $5.
It's easy to store because it folds down like this...
Thinking it should have a few accessories and
since thrifty has become my middle name,
I decided to make my own accessories.
I started with 3 dishtowel purchased for $3.99
and some ribbon that I already had from another project.
The first thing I made was a silverware holder.

I folded one of the dishtowels over by 1/3.
Then I measured out the placement for the silverware
adding a chalk line to act as a sewing guide.
Then sewed the chalk lines
.
The

silverware

was placed in the newly created pockets.

I then added the finishing touch by placing a pretty ribbon around it.


This will also keep it compact and rolled up for easy storage.
I also wanted a convenient way to transport the dirty silverware and dishes home after picnics, so I took another dishtowel and sewed the sides and bottom together forming a bag. I finished it off by adding a ribbon for a drawstring. When the bag is dirty after use, all you need to do is throw it in the washing machine.
The third towel serves a dual purpose...
serving as the baskets lid and
for wiping up spills or dirty hands the day of your picnic.
Here is the finished product, which I have named...
My Little Red Ridding Hood Basket!!!
My total cost for the project ~ $8.99
Doesn't it make you want to have a summer picnic?



Joy

I'm linking this post to ...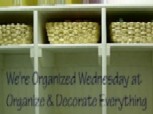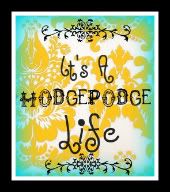 Blue Cricket Design ~ Show and Tell
Fingerprints on the Fridge ~Feature Yourself Friday
Finding Fabulous ~ Frugalicious Friday